Citizen Cane Chair Restoration
Saving Trees & Memories One Chair @ A Time!
14392 Hoover Street, Bldg #C19
Westminster, Ca 92683
Call today for more information (714) 944-6846
Or email pictures of your projects to: 4citizencane@gmail.com
(We also offer free inspection and quotes Thursday through Saturday by appointment)

We offer heirloom quality furniture restoration services

Chair Caning/Rushing ~ Wicker/Rattan Work ~ Furniture Refinish/Repairs ~ Upholstery


Restoring older furniture often preserves superior quality pieces in terms of materials and structure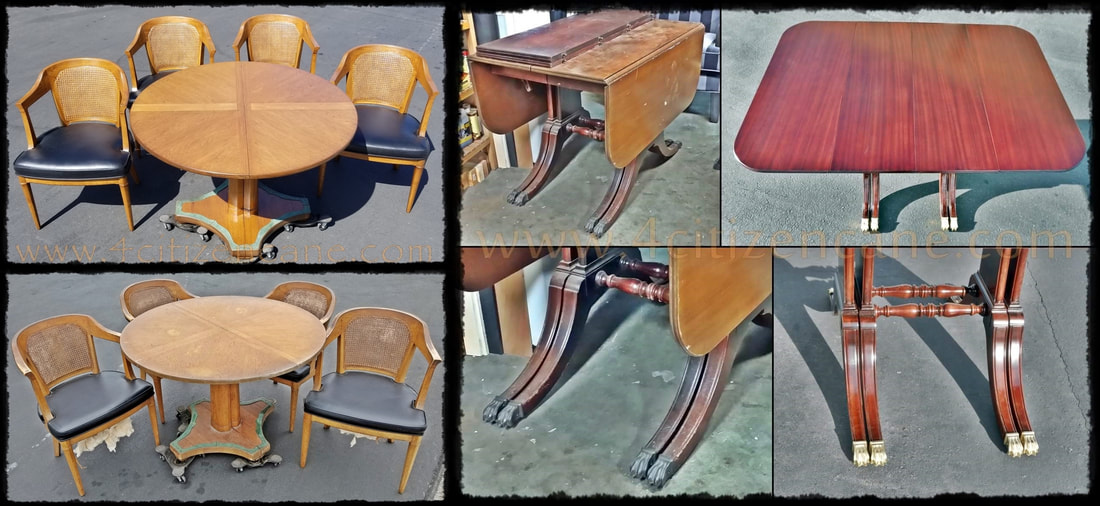 To achieve excellant results in re-upholstery one must pay as much attention to internals as one does to externals

If you enjoy reading reviews, check some of ours out on yelp

​Enjoy this slide show of recently completed jobs then schedule your free inspection and quote today!

​What method of caning do your chairs require?​
Hand Woven Strand Cane Or Machine Woven Sheet Cane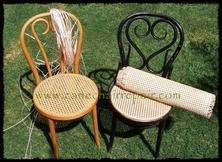 1) Yes we handle both methods of re-caning your chairs. Antique chairs often were caned using the hand woven method. Then in the 1950's chairs caned with prewoven sheets of cane became prevalent. FYI: Cane is the peeled bark from the rattan vine and has been used in furniture and basketry for hundreds of years. Which ever way your chair was originally caned it will have to be re-caned the same way again. To understand the difference read the next two paragraphs and click on the adjoined images for a closer look...
---
This Is What A Machine Woven Cane Chair Will Look Like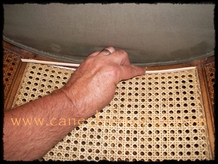 2) On the left you can see me pressing the spline into the groove or channel that the sheet of cane is tucked into. This is held in place with water based wood glue so it's easier to remove should the chair ever need re-caning down the road. Unfortunately some folks use the wrong glue when caning a chair like this making it much more difficult for the next guy years down the road. It also increased the chance of damaging the chair frame when it comes time to remove the old cane prior to replacement. Click on the image for a closer look...


---
This Is What A Hand Woven Cane Chair Will Look Like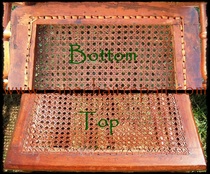 3) This split image on the left is showing the top and bottom or underside of the same seat on an antique hand caned chair. This type of chair has multiple holes drilled evenly all the way around the perimeter of the seat and/or back of the chair. These are the weaving holes that we thread the strand cane through as we hand weave the chair. On a chair that is designed to receive machine woven sheet cane you will not have these holes but rather a narrow groove or channel only on the top or face side of the seat and or back of the chair. Click on the image for a closer look...


---
We offer 5% discounts to Veterans and/or Seniors over 65!
We provide furniture and cane chair repair services to the following communities...
Aliso Viejo, Anaheim, Balboa Island, Brea, Buena Park, Costa Mesa, Corona Del Mar, Coto De Caza, Cypress, Dana Point, Dove Canyon, Foothill Ranch, Fountain Valley, Fullerton, Garden Grove, Huntington Beach, Irvine, Ladera Ranch, Laguna Beach, Laguna Hills, Laguna Niquel, Laguna Woods, La Habra, La Palma, Lake Forest, Los Alamitos, Mission Viejo, Monarch Beach, Newport Beach, Newport Coast, Orange, Placentia, Portola Hills, Rancho Santa Margarita, San Clemente, San Juan Capistrano, Santa Ana, Seal Beach, Stanton, Talega, Trabuco Canyon, Tustin, Villa Park, Westminster, Yorba Linda, Los Angeles and beyond by shipping...